---
My name is Markus Karrer Ostermayer. I am born in 1962 and live in Bottmingen, Switzerland.
Click here to send an email to markus@ostermayer.ch
If you have questions about Radar Scope boardset repairs (not other hardware, sorry) i am always willing to help you.
Maybe you can send interesting facts about Radar Scope, describe your hardware, send pictures of your machine...?
I am looking forward to hearing from you! If you like, i will publish your contributions below in the
Gallery of Radar Scope machines and projects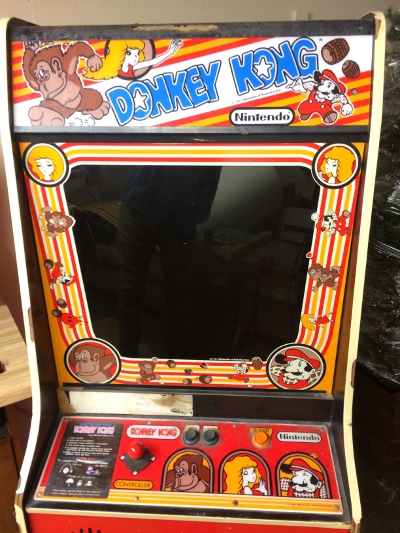 This red Donkey Kong was originally a Radar Scope. (Fort Gibson, Oklahoma, USA)
The owner restored this machine and had to repair its original monitor chassis (tube and chassis see video page)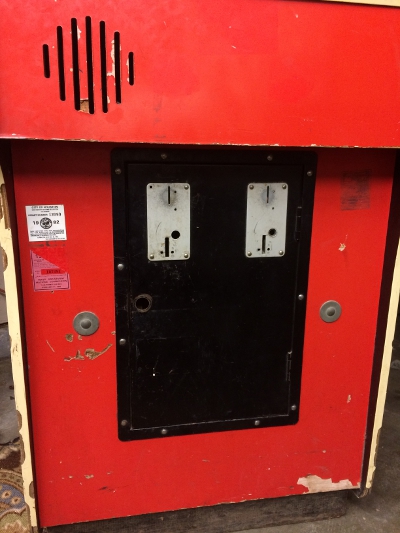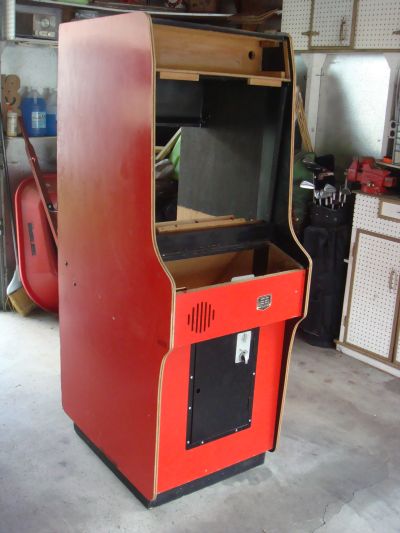 Upright restoration project by Dan, Hammond, Indiana, USA:
"... it was converted to some Jamma game, most likely Smash TV. The only thing that remains of Radar Scope was the wiring harness and half of the power supply. Other than the terrible t-molding, It's in pretty good shape. I plan on restoring this guy to his former glory…"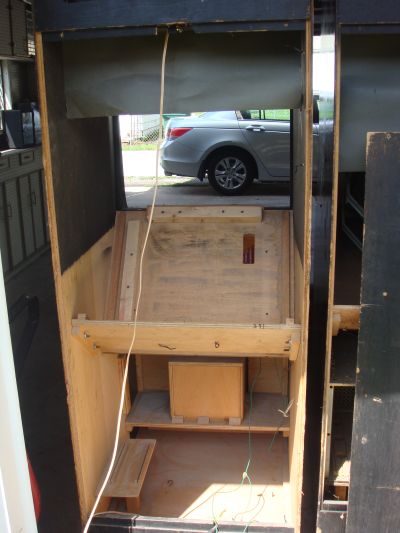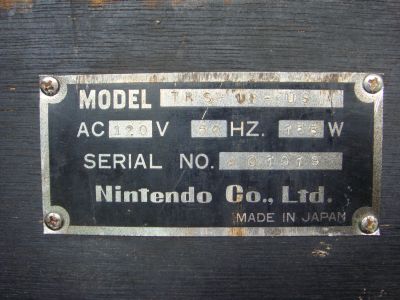 "... CamaroMurph from KLOV thinks it may be the earliest Radar Scope Cabinet ever: Serial Number: A01019 (19th ever made?) Coin Counter: 007216..."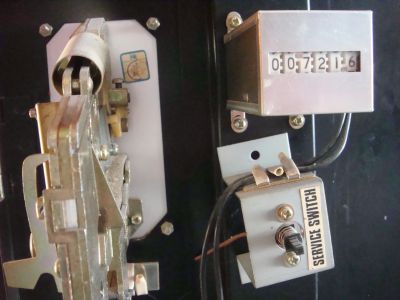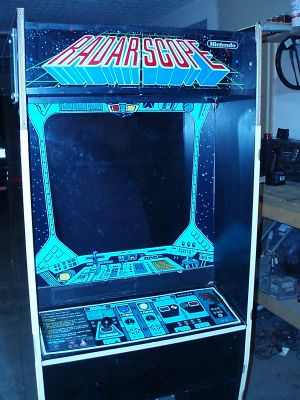 Rare cockpit version restoration project by Jim Z, USA:
"... so far there is not anyone else that has a r.s. cockpit [in his area]. ive attached some pics of the game as it looked when i bought it. ive been repairing wood and holes, then repainting the whole cabinet..."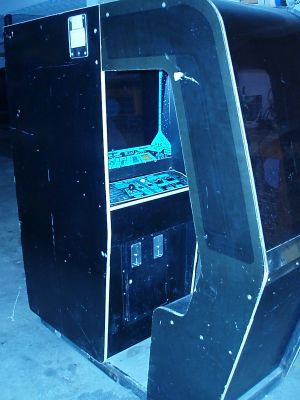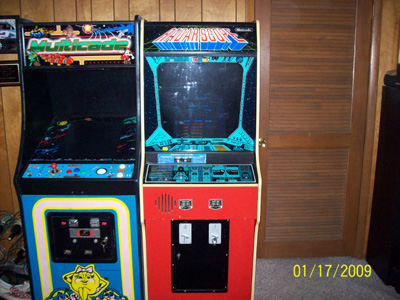 Upright Radar Scope contributed by Mike M., Naperville, IL, USA:
"Just purchased my first Radar Scope game. It is an upright. Interesting tag info. I have attached a picture of the tag"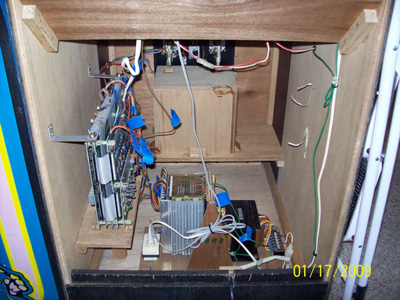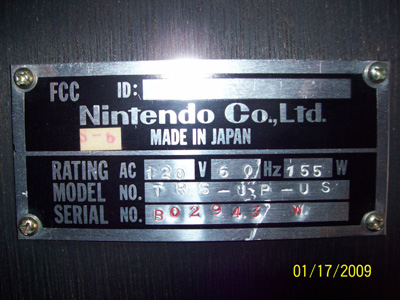 "Serial number B02943.
Pretty high serial number considering all info to date suggests that there were none over B018XX. It also does not have the monitor in a box like all the others I have seen. It has 2 carriage bolts through the side similar to my red DK."

"I have been trying to put together a serial number list of Radar Scope and DK cabinets to put some sense to when all the different transitions happened. It is on KLOV in the general section under "Call for DK and Radar Scope tag/cabinet data". I have about 5 or 6 Radar Scope games in the list. A couple of UK games and the rest US. Nothing over B018XX until now"
Contributed by "Level42", Ridderkerk, The Netherlands (Jun, 2008):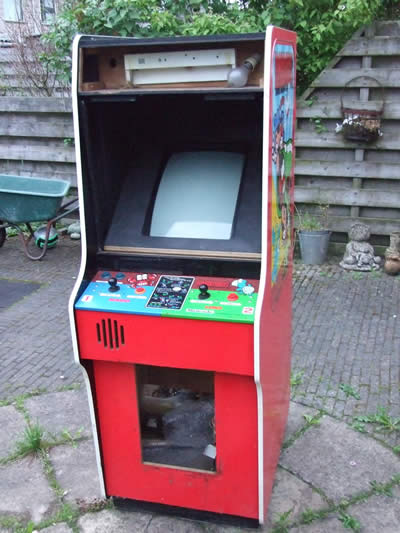 "It was half-converted to Mario Bros. when I bought it, but the monitor was still in vertical position and has a light Radar Scope burn-in. I am completing the conversion to MB for now, because all the artwork is there already and in very nice condition"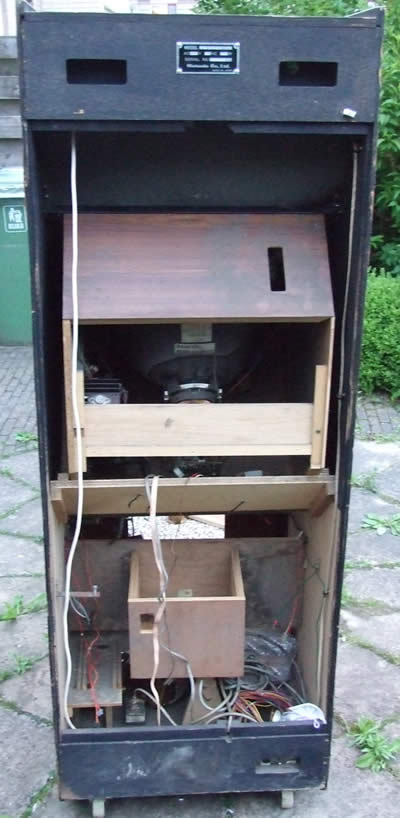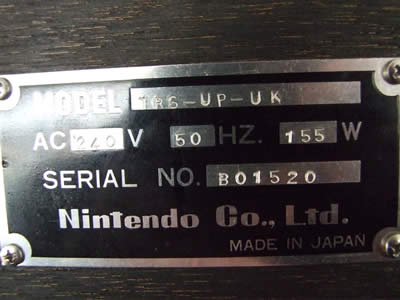 "...This cab was a UK cab, you can see that on the plate. It was also configured for 240 VAC and had a UK plug when I got it. The seller told me that indeed it
came from the UK originally.
I already have an original MB PCB set (unknown if it's working) and there's a MB wiring harness on it's way to me from the US."

A lot of pictures and more info on this conversion project by Level42 can be found here in the ArcadeControls forum.

Identification of my cocktail table
| | |
| --- | --- |
| | This is the (somewhat scratched) serial plate which reads "TRS HL A 03677" |


If you have pictures of other plates and / or serial numbers i would like to hear from you in order to collect some data about the production numbers.

High Scores: Story of a Radar Scope Player
The following scores story was sent to me by 'ks' in June 2008:
"Lately, I've been thinking back over my teen video-game exploits, thinking I might hunt down &
play some old favorites -- maybe even try to crack some old scores. Looking around on the Net, I
was a little surprised by the "official" high scores, because none of them are close to what my
high school friend & I were putting up. Back in 1981-2 we were pushing each other pretty hard --
together we had at least a dozen scores over 135,000. My friend had broken 150 -- the high score
between us -- but I held 2nd, 3rd, & 4th. That machine was so beat up lol! The knob broke off, so
we wrapped the joystick with electrical tape. After that, the fire button fell out & disappeared, but
we discovered you could still play by sticking your finger down in the button hole. Not long after
that, I played my final game...
... I was on a really good run -- I had a lot of points early -- when a maintenance guy of some kind
started leaning in and trying to get around behind the machine while I was still playing. Then he
came back with a dolly cart and started to wiggle it under the machine, & I was thinking wtf! Finally
the arcade owner shows up & says that the machine is shipping out, and the truck is in the lot &
ready to go. I'm having this great game, poking my finger down the little hole, & they're rocking
the machine like I'm not even there lol! Lucky for me, the owner kind of knew me, and he caved in
to my begging and let me finish my game. It must've been like half an hour before I finally got
crushed at... 153k+. I remember making everybody wait as I filled in the whole row with my name.
Oh, that feeling of utter futility has never left me!" (ks)
Identification of my boardsets
| Label | Serial Nr. | Comment | By |
| --- | --- | --- | --- |
| TRS2-02-CPU | C-02463 | EPROMS on sockets | A.W. |
| TRS2-02-VIDEO | V-02502 | EPROMS on sockets. Missing color PROM replaced with GAL | A.W. |
| TRS2-02-CLK | L-02637 | 5M ECL RAM was defective | A.W. |
| TRS2-03-SOU | S-02316 | EPROMS soldered in | A.W. |
| TRS2-03-CPU | C-06529 | EPROMS soldered in | S.C. |
| TRS2-02-VIDEO | V-06446 | EPROMS soldered in | S.C. |
| TRS2-03-CLK | L-06156 | 5L ECL RAM needs to be replaced | S.C. |
| TRS2-04-SOU | S-06233 | EPROMS soldered in | S.C. |
| I80-02-SOU (labeled TRS-02-SOU) | S-00905 | EPROMS on sockets. With voice option | M.K. |
| TRS-02-ESS | E-00890 | EPROM on socket. Prototype wires | M.K. |
| TRS-01-CLK | L-00552 | Maybe I80-01-CLK ? | M.K. |
Other Serial Plates / nice machines
| | |
| --- | --- |
| | This is a serial plate of possibly one of the last radarscope uprights to be produced, which reads "TRS UP US B 01874". Here is a picture (263 K) of this machine standing next to one of the first "red" donkey kongs to be made. (both pictures shown by permission of Rory Blake, North Carolina, USA). According to this source, the Radar Scope production amounted to something like 800 units (where serial numbers started at 01001) and the later Donkey Kong production to 75,000 units. DK was designed to use the Radar Scope base hardware, including the red cabinets (making about 1200 "rare red cabinet" Donkey Kongs). |


If you have pictures of other plates and / or serial numbers i would like to hear from you in order to collect some data about the production numbers.



History
2019-05-28
Add Donkey Kong page
2019-03-29
Pictures of converted TRS to TKG and Sanyo Monitor
2013-01-03
Better description of SYNTH data on sound board
2012-01-19
More power supply pictures and plug info
2011-02-19
Bought the CoffeeCup HTML Editor. Added power in P9 info to CPU page
2009-09-18
Added restoration pictures sent to me this summer
2008-07-12
Level42 contributes pictures
2008-05-08
section about freezing the game
2008-04-05
stylesheet and text improvements
2008-02-01
Links updated
2007-12-16
Links updated
2007-11-14
Added voice chip info on the links page and a datasheet section there
2007-09-05
Repaired some defective links in video section.
2007-04-10
Updated video display section (line buffer). Removed direct mailto: link by a gif image due to excessive spam
2006-12-04
Added pictures of Donkey Kong cocktail table
2006-11-12
Added improved NOP fixture and signature analysis data
2006-11-11
Added TRS-UP-US serial info
2006-10-17
Added scans of cocktail table artwork (instruction sheet and registration sheet)
2006-09-03
Added siren description
2006-08-30
Added sound board pictures
2006-08-26
Added sound samples and updated Radar Scope sou page
2006-08-22
Added some links
2006-08-15
First version of the homepage