---
Links
| | |
| --- | --- |
| Arcade Manual Archive | Radar Scope Schematics (PDF format). Same graphics quality as on other sites, meaning: poor. Some lines not readable. Beware: So called original manuals in paper form are not better... If you ever find better schematics please contact me. |
| The internet pinball database | Large collection of pinball machines. |
| The International Arcade Museum | Short info on all classical arcade games: Killer List of Video Games. |
| TAFA | The Arcade Flyer Archive. For example enter 1980 and Nintendo to see Radar Scope flyers. |
| MAME | Famous emulation project. |
| Home of the Z80 CPU | Thomas Scherrer has lots of info on the Zilog Z80 CPU. |
| Aaron Giles MAME Memories | Interesting technical insights of a MAME project member, for example how Color Proms work. |
| Matthieu Benoit | Resources for the ALL03 ALL03A HiLo Systems device programmer and tester. On his excellent home page a lot of other electrical engineering information can be found. |
| George's Polaroid SX-70 pages | The hacker's guide to the SX-70 and other nice stuff. |
| Outlane | A beautiful collection of pinballs and arcade video games in Zurich, Switzerland. |
| iomedios | Are you in Switzerland and need resolving a dispute? A third party, the mediator, assists you to negotiate a settlement. |

Note: I am not responsible for the content, availability, correctness or accuracy of the linked sites above or of the offerings, links or advertisements therein.
Other electronic repair/ datasheet / project issues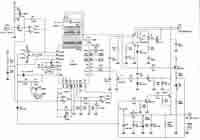 Recently i was trying to repair a voice module kit (possibly about 10 years old from Völkner Elektronik, Braunschweig?) which used the YC8256M voice recorder IC and an 41256 RAM for storage and i could not find the schematics for it.
Thanks to Hans at the fu-berlin i was able to get a copy and this voice recorder kit is here for viewing for those interested in this application.
In addition, i got some application notes for the Winbond ISD1400 Series single-chip voice record / playback devices, the Winbond ISD2560/75/90/120 single chip, multiple messages voice record / playback devices, the ChipCorder ISD1400 and the ChipCorder ISD2500.